These metro areas have the highest percentage of affordable homes, according to the Housing Opportunity Index from the National Association of Home Builders and Wells Fargo.
1. Kokomo, Ind.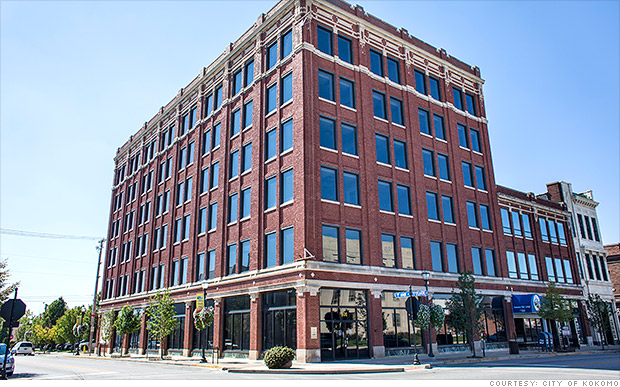 Population: 82,849
Median home price: $85,000
Median income: $60,100
% of homes sold that are affordable*: 96.3%
The fortunes of this central Indiana city have risen and fallen with the auto industry, according to its mayor, Greg Goodnight. Major employers still include transmission and car electronics manufacturers, and there are many well-paid, union jobs.
Layoffs hurt employment in the 2000s, however, and many residents moved away. The Kokomo metro area population dropped by 2.6% between 2000 and 2010, reducing demand for housing.
2. Springfield, Ohio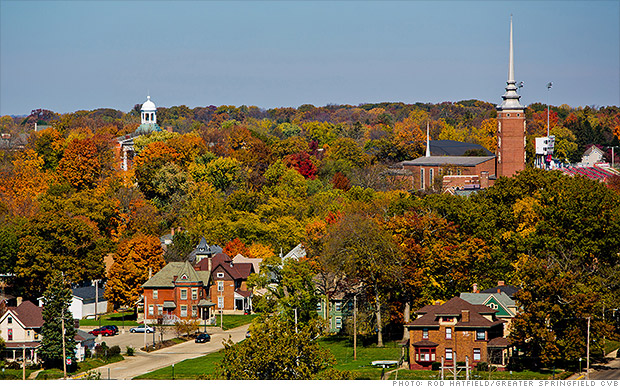 Population: 137,206
Median home price: $76,000
Median income: $53,500
% of homes sold that are affordable*: 93.3 %
This metro area produced farm equipment, school buses and recreational equipment when its economy was driven by the biggest local employer — International Harvester, now Navistar International.
The economy is in transition to more of a warehousing and tech center, according to Community Development Director, Shannon Meadows.
"We are located on the I-70 between Columbus and Dayton and near three international airports," she said. "It's great for distribution."
The metro area population has contracted by about 13% over the past four decades leaving behind many empty houses. A recent housing study determined that the city of Springfield alone had a surplus of 500 houses. With light demand, home prices have stayed so low that even with those of modest means can afford to be homeowners.
"We have some wonderful neighborhoods and you can buy a three bedroom, 1,200 square foot house within walking distance of downtown for $75,000," said Meadows.
3.  Monroe, Mich.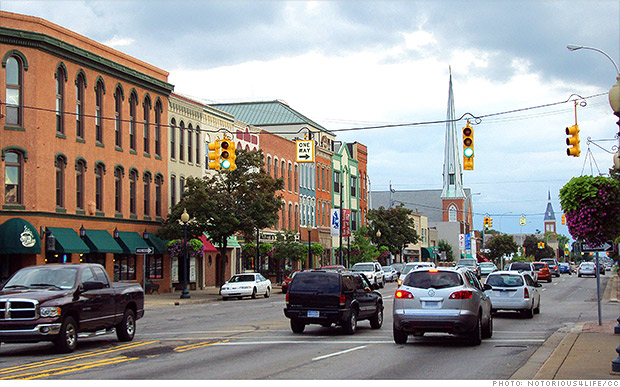 Population: 151,048
Median home price: $120,000
Median income: $63,700
% of homes sold that are affordable*: 93.2 %
Located about midway between Detroit and Toledo, Ohio, Monroe had a vibrant auto supply industry. One famous brand named for the town is Monroe Shocks & Struts, which has retail locations all over the country. Its parent company, Tenneco, is still headquartered in town.
The area has not recovered all the auto industry jobs that were lost in the recession, according to Mansfield's director of Economic and Community Development, Dan Swallow.
"Looking ahead, we're expecting flat or small population growth over the next couple of decades," he said.
4.  Vineland, N.J.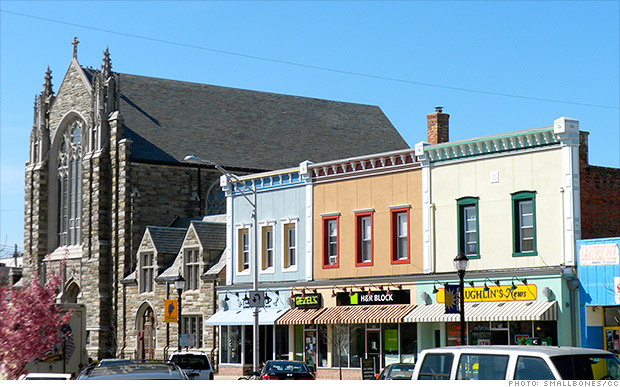 Population: 157,785
Median home price: $131,000
Median income: $68,600
% of homes sold that are affordable*: 93.2%
Vineland lies in the south of New Jersey, nearly equidistant from Philadelphia and Atlantic City, N.J. Glass bottle manufacturing, once the dominant industry, has declined but area plants still turn out scientific glass products like beakers and test tubes, according to Alex Curio, Vineland's director of community development.
The area is a bit depressed economically; its unemployment rate of 10.5% in December was four percentage points higher than the national rate. Parts of town have been designated as an Urban Enterprise Zone, giving it tax and regulatory advantages to try to pump up economic activity. Agriculture is still an important part of the economy with working truck farms located even within Vineland's city limits.
"Land is cheap, relative to the rest of New Jersey," said Curio.
The housing stock, other than a small part of downtown Vineland, is well maintained, and there are many bargains available in the housing market, according to Curio.
5.Cumberland, Md.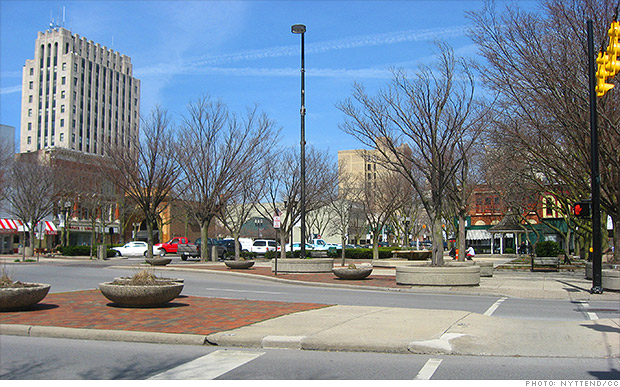 Population: 101,968
Median home price: $89,000
Median income: $53,300
% of homes sold that are affordable*: 92.9%
Cumberland may be in Maryland but it's almost two and a half hours away from the booming Washington, D.C., metro area and geologically and culturally more a part of Appalachia.
The area's economy had been based on manufacturing glass, tinplate and fabric. Those industries lost competiveness after World War II and now it's one of the poorest metro areas in the country, according to the U.S. Department of Commerce.
The metro area population has barely budged since the 2000 census at just over 100,000, so there's been little pressure on home prices.
6. Davenport, Iowa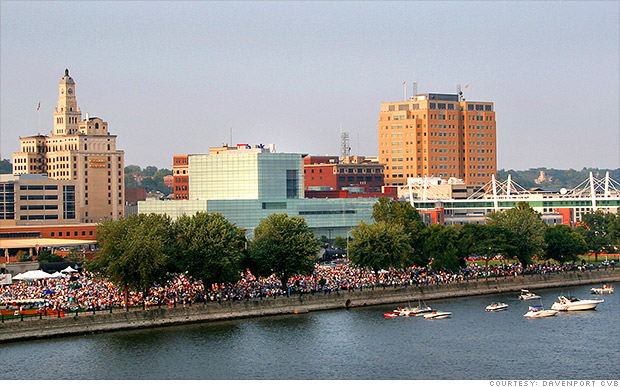 Population: 382,630
Median home price: $94,000
Median income: $63,100
% of homes sold that are affordable*: 92.5 %
Davenport, Iowa, is the largest of the Quad Cities metro area that straddles the Mississippi and includes Bettendorf, Iowa, and Rock Island and Moline in Illinois.
"The American Dream is palpable here," said City Administrator Craig Malin. "It's a Norman Rockwell life in a Grant Wood landscape."
This is the buckle of the Corn Belt and several manufacturers centered here, including John Deere, grew by building and selling harvesters, seeders and other heavy equipment to farmers. Deere has retained a solid grip on the market by expanding internationally, according to Susanne Knutsen, Davenport's economic development coordinator.
"[The company's success] has helped insulate us from rising and falling real estate prices," she said.
So has a diversification of the local economy with food processing and financial services growing more important.
Knutsen said all four Quad Cities are working to revitalize their downtowns and promote density. In Davenport, old central city plants and warehouses have been repurposed for housing with chic living lofts going into the spaces.
7.Lima, Ohio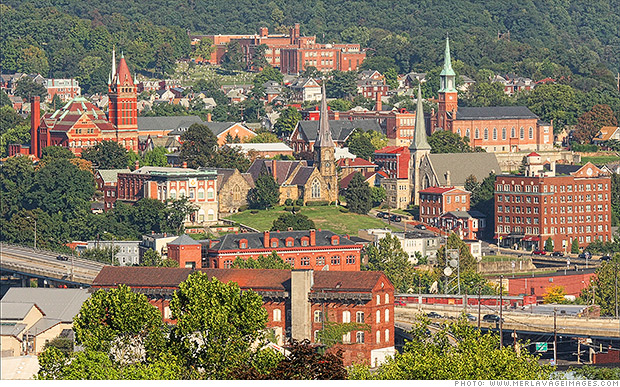 Population: 105,141
Median home price: $85,000
Median income: $54,200
% of homes sold that are affordable*: 92.5 %
Lima was once a rail transportation hub and a center for steam locomotive manufacturing. That heavy industry tradition continues with the Lima Army Tank Plant. That product is being phased out, however, as the army doesn't need any new tanks, but amphibious fighting vehicles will still be made on the site.
Mayor David Berger said the area economy is both stable and growing. "Most of our industries are doing quite well," he said.
Home prices, however, have never moved much, neither during the boom or the bust.
"Ohio has been a slow growth state and that affects the demand for housing," said Berger.
Nicely kept, three-bedroom homes in good neighborhoods can be had for about $80,000.
8.Bay City, Mich.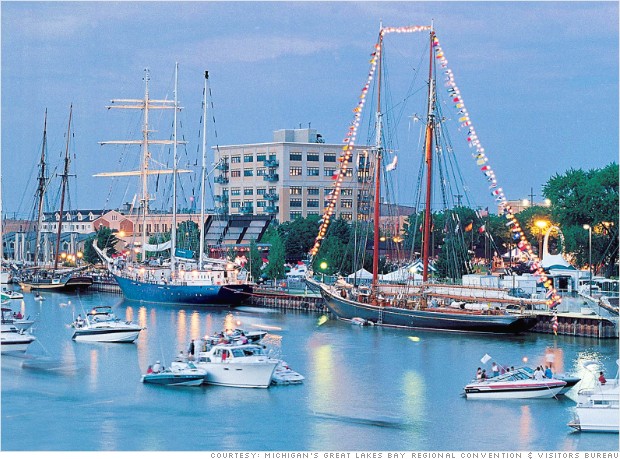 Population: 106,935
Median home price: $75,000
Median income: $56,100
% of homes sold that are affordable*: 92.1 %
The Bay City metro area population is dropping, not a positive trend for home sellers. The number of residents fell 2.2% from 2000 to 2010 and another 0.8% over the following two years.
"If you're losing population, you're going to have available housing," said Bay City mayor Christopher Shannon.
Located where the thumb of Michigan's mitten meets the hand, about 120 miles north of Detroit, Madonna's birthplace long had an economy with a solid manufacturing base, which included boat builders.
"That legacy is not always positive," said Shannon. "Reliance on it has come back to haunt us."
When much of the heavy industry work left, the economy had to adjust. Now, chemical and silicon chip processors, auto parts makers and sugar beet refiners are the largest private employers.
9. Fairbanks, Alaska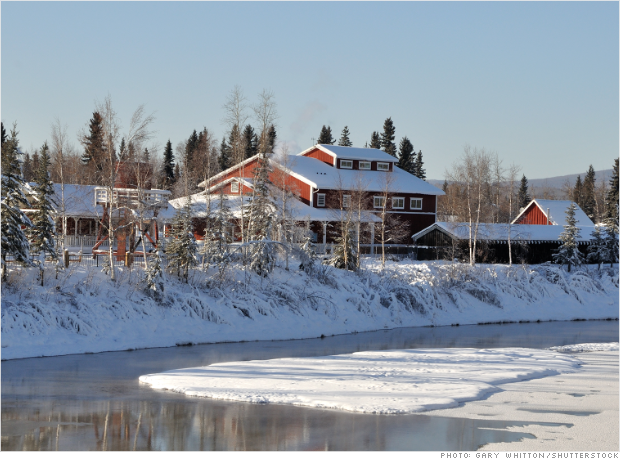 Population: 100,272
Median home price: $205,000
Median income: $78,400
% of homes sold that are affordable*: 92%
With many goods having to be trucked in from "Outside" as Alaskans call the lower 48, and the construction trades commanding high salaries, it's not cheap to build homes in this small metropolis near the center of the state. The median price of homes sold during the fourth quarter was the highest among the 10 most affordable markets and closely tracked the national median.
It's good pay that makes homebuying so affordable here. Fairbanks households earn a median of $78,000, about 21% more than the typical American household.
Much of the local work depends on government with two military bases, Fort Wainwright and Eilson Air Force Base, major contributors, according to Jomo Stewart, with the Fairbanks Economic Development Corporation. The University of Alaska is also a big employer.
10. Mansfield, Ohio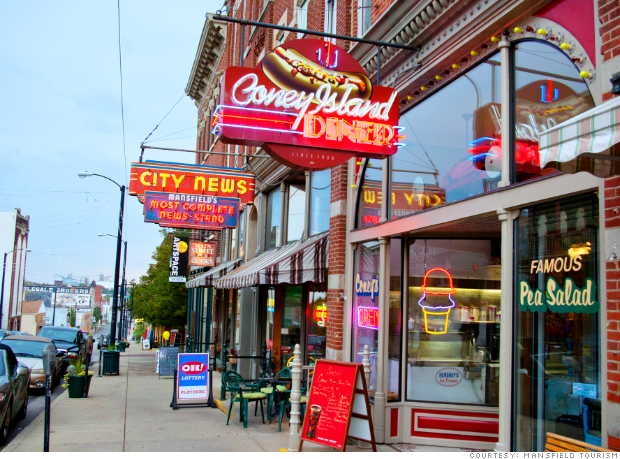 Population: 122,673
Median home price: $91,000
Median income: $54,600
% of homes sold that are affordable*: 91%
This small metro area grew on the manufacture of stoves, steel and other heavy industrial products. As its factories closed, including a GM plant that was the area's biggest employer with 1,400 workers, residents moved away: The metro area population has declined nearly 5% since 2000.
All that out-migration left behind an underused housing stock and home prices fell to among the lowest in the country. The median price of homes sold in late 2013 was well under six figures. A mere $100,000 can buy a nicely maintained, three bedroom brick house on a quarter acre lot.
"It's simply a function of supply and demand," said Peter Haring of Haring Realty, one of the area's top brokers.
Wages in the area are lower than the national average, according to Mansfield's mayor, Tim Theaker. But home prices even lower, relative to income, making it easy for working people to afford to buy.
He said the economy has been on the upswing: The unemployment rate has fallen to 7.2% from 10.5% two years ago. That recovery has still left it with too many vacant houses, some of which became derelict. The city knocked down 150 of them last year.
Source: http://money.cnn.com/gallery/real_estate/2014/02/20/affordable-housing-markets/10.html
Related posts